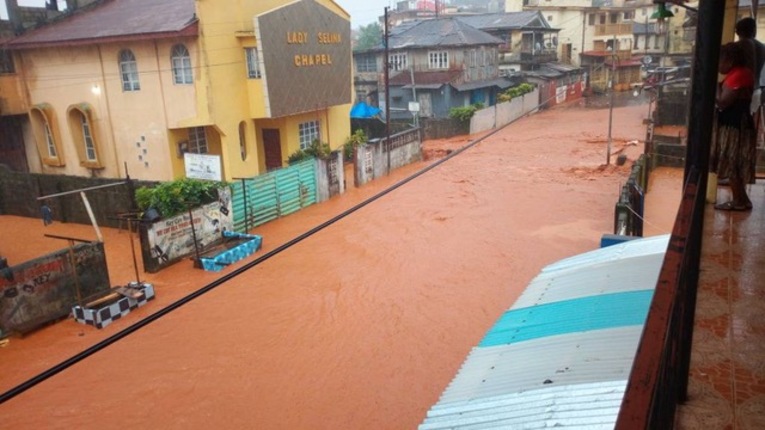 Africa Disaster Relief
GIVING CODE: ACM1199
REGION: Africa

About the project
URGENT NEED — SIERRA LEONE MUDSLIDES: In Sierra Leone, torrential rains caused devastating mudslides on the outskirts of the capital, Freetown, early Monday morning, Aug. 14. Many were still asleep in their beds when part of a mountain collapsed. Homes and other buildings were swept away by the floodwaters. More than 400 people are confirmed dead, and 600 more are missing. More than 3,000 people are now homeless. Entire communities have been pummeled. "The situation is really terrible," says Vidal Cole, Nazarene district superintendent in Sierra Leone. "As a church we want to do whatever we can to minister to the survivors and those who are bereaved. The entire nation is mourning, and we want to share the love and compassion of Christ with our people in any way we possibly can." The Church of the Nazarene is working to assist those affected by the devastation by providing for urgent needs, such as bottled water, food, and hygiene kits.



ONGOING CRISIS — EAST AFRICA FAMINE: Famine has been declared in parts of East Africa, and other areas are facing a severe hunger emergency. Extreme drought, violent conflict, and scarcity have created a food crisis that is making it nearly impossible for people to get the food they need to survive. Millions of lives are in danger. Famine has already been declared in South Sudan. Severe drought in parts of East Africa, including Kenya, Ethiopia, and Somalia, has created critical food shortages. The situation will lead to famine if something is not done soon. More than 20 million people in this region are in need of urgent food assistance. Nazarene church leaders are working with local churches to provide food for families and individuals who are vulnerable to extreme hunger. Nazarenes in South Sudan have been greatly affected by the famine. Many have fled to neighboring countries, including Uganda and Ethiopia, to seek food and protection from violence. Others who are still in South Sudan are in urgent need of assistance. Church communities in neighboring countries in East Africa are also being affected by severe hunger and the food crisis. Local churches are responding. But they need our help.



When people in Africa are affected by famine and drought are hungry, local churches respond by providing food. When communities were affected by the deadly Ebola virus, local churches were there. When families are displaced by violence, local churches offer assistance. All of this is possible because other churches around the world join together to help those in need. In the midst of natural disasters, wars, famines, disease epidemics, and other crisis situations, people turn to the church for help and hope. During disasters and emergency situations, NCM in Africa partners with local churches as they work to assist people in meeting short-term and long-term needs—both physical and spiritual. We are especially committed to working with churches to care for the most vulnerable individuals and families in their communities. Each emergency relief effort is organized locally with the support of the global church through prayer, giving, and technical support. Through the Africa Disaster Fund, the church in Africa will be ready to respond when the worst happens. By giving to the Africa Disaster Fund, you can join together to offer a tangible expression of God's love when people need it most.
MAKE A DONATION
Donate by Check:
In the US:
Make checks payable to General Treasurer
and send them to:
Global Treasury Services
Church of the Nazarene
P.O. Box 843116
Kansas City, MO 64184-3116
In Canada: Make checks payable Church of the Nazarene Canada and send them to:
Church of the Nazarene Canada
3657 Ponytrail Drive
Mississauga, ON L4X 1W5
Be sure to put ACM1199 in the Memo area. Thanks for your donation.